Middle Eastern Style Commercial Kitchen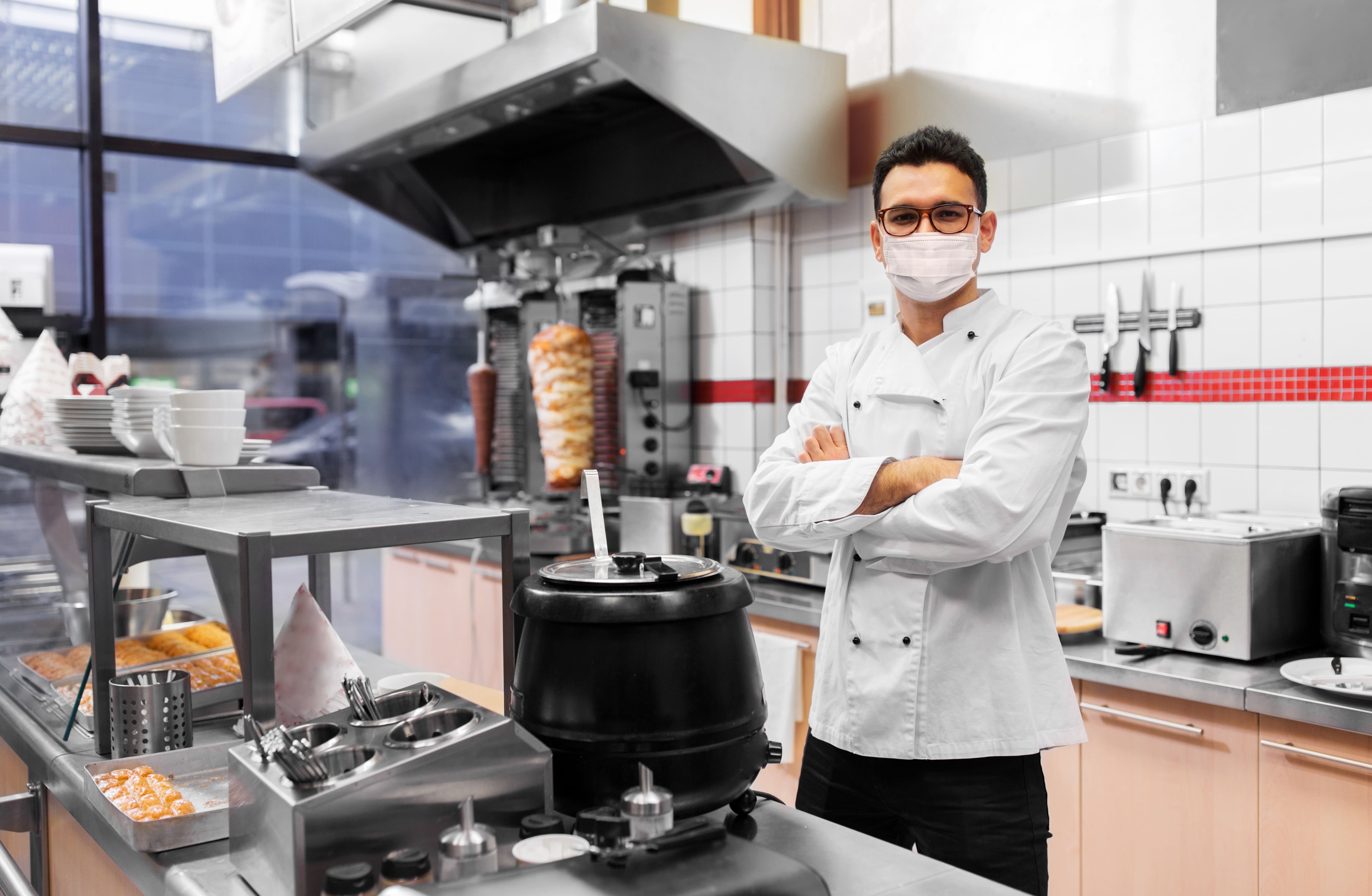 A commercial kitchen is the heart of a restaurant operation.. The design, the equipment and assemblance of the kitchen will ensure exceptional growth, avoidance of hazard and quality production.
Kitchen equipment is the center of any commercial kitchen, they are a great way to maintain cleanliness and orderliness in the kitchen. Those equipment are designed to make the kitchen work easier, Maintain hygiene, portion and quality control.
Middle Eastern cuisine is a very diverse cuisine that is spread widely across many countries including Arabic, European, East African and several central Asian countries Middle Eastern cuisine is influenced heavily by civilization that settled in the region.
When it comes to a Middle eastern cuisine operation, the kitchen equipment used are critical to produce authentic and traditional dishes.
Spinning grillers is a hub for a great selection of Middle Eastern Restaurant Kitchen Equipment to help you upgrade your restaurant and produce a successful establishment.
In general there are few basic kitchen equipment that are important to any kitchen:
Commercial Refrigeration system: The freshness and temperature of food can be the most dangerous part in a commercial kitchen and a great quality refrigeration system can prevent hazards and ensure food freshness at all times.
Ovens, deep fryer, stove tops and grill: Cooking in a commercial kitchen comes in the form of Baking, frying, sauteing, boiling and grilling. So having these equipment is major to a functioning kitchen.
Racks and workspace: Keep in mind that in a commercial kitchen, there always will be several people working at the same time and having a comfortable, organized and clean workspace for preparing ingredients makes the job easier and safer to employees.
Cookware and utensils : The quality of your pots and pans are super crucial in this business especially when pots, pans and knives constantly in use in a commercial kitchen going through the cycle of using and washing multiple times throughout each day. The quality will ensure a long lasting product.
Ice Machine : It is essential to have an ice machine not just for serving guests but for kitchen use as well.
Before building or upgrading your establishment to a Middle Eastern restaurant determining the menu will help the most essential equipment needed in the kitchen. After the general menu ideas the choosing of great quality equipment is a must.
Spinning Grillers have a large selection of unique quality equipment that plays a big part of sustaining the authenticity of Middle Eastern food production. Compared to other generic kitchen equipment companies, Spinning Grillers website carry unique and very important restaurant kitchen equipment to make the food production efficient with substantial results.
Hummus Machine or blender: Hummus is one of the most important side dishes in Middle Eastern cuisine and when it comes to making it in large quantities it is important to have a machine that will help produce the creamiest hummus in large Batches. Spinning Grillers Hummus Machine are unique with the powerful motor and strong blades that works together to pull all ingredients to the center and grind the chickpeas to exceptional creamy texture that follow to traditional standards.
Shawarma ( Gyro) Machine: Shawarma is one of the important dishes in Middle Eastern cuisine. To produce Shawarma in a traditional way, a shawarma machine is an essential. The cooking method of vertically slowly cooking the meat is the secret for delicious shawarma style meat. Spinning grillers' shawarma machines have great characteristics to produce delicious and flavorful meat such as providing the equal heat to produce the perfect cooked meat and the choice of moving the pole of meat closer or farther from the heat. Shawarma Machine is also used to make tacos and gyros. With selection of many sizes you will be able to choose the right size for your establishment.
Auto Falafel Machine: Falafel is a wildly popular dish known for its delicious taste and as a major vegan choice. But when it comes to preparing it, using an equipment. Spinning Grillers Falafel and meat grinder have a special and distinctive feature that makes it stand above any other inclusive equipment. The features are: Fast, efficient, and can create up to 120 Falafel balls in a minute and you can adjust the number to how many you might need.
Charcoal Kebab Grill: A middle Eastern feast is not complete without kebabs, chicken, beef, shrimp and lamb kebabs. and these dishes will not be the same without the taste of smoking bbq and charcoal to coat all the delicious herbs and seasoning. Spinning Grillers special Charcoal kebab grill is used in indoor restaurants and have unique feature of quick start up.
Dough mixer: Many authentic restaurants established a signature pita bread dough to make fresh bread to accompany a delicious meal. Making homemade pita bread will rank your restaurant to another level of authenticity. Pita bread is part of Traditional Middle Eastern meal and to complete any fresh meal, a dough mixer is an essential in a kitchen. Spinning grillers dough mixer equipment comes in many sizes to accomplish the need of your establishment, a dough mixer is also used in many different flexible options to make pizza dough, pastry and different kinds of bread.
Pita oven: To cook Pita bread in a traditional way, a pita oven is a great equipment to ensure the baking process with the right temperature to produce the perfect Traditional loaf of bread every time. Consistency in taste and texture of the product does make a difference and will help create a loyal customer base. Investing in Spinning grillers Pita bread oven is a guaranteed result of perfectly baked pita bread with the feature of controlling the temperature the pita oven can be used to make naan, tortilla bread and tandoori bread.
For a successful restaurant, buying the right equipment from the beginning is important. Check our website for selection of essential restaurant kitchen equipment. reach out with any questions you have to help you build your MIddle Eastern Kitchen.
You May Also Like...
We found some products that you might also be interested in.